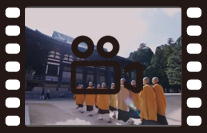 Special Movie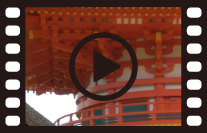 Movies about Koyasan
Experiences
In Koyasan, the various facilities and programs are prepared for visitors
aiming for the experiences of Buddhism, the natural world and so forth.
Experiencing Buddhism
Otsutome
(Buddhist Ceremonies at Temples)
A Buddhist service is held early every morning at shukubo temples. During the ceremony, the chief priest and monks of the temple chant Buddhist sutras in the main temple hall. Depending on the temple, the ceremony may start at around 6:00 AM. Overnight guests as temples may also participate or watch.
Experiencing Ajikan
Ajikan is a form of Shingon meditation for integrating the practitioner with the Buddha. Only a few shukubo temples are able to provide an Ajikan experience to private visitors, so be sure to check first.
Kechien Kanjo
(Esoteric Initiation Ritual
For Establishing Karmic Bonds
With A Buddha)
He proceeds on a path filled with blooming lotus flowers, and arrives before the Buddhas. A flower on the fingertips is all that is needed to establish karmic bonds with a Buddha among many. Gently, he tosses the flower, entrusting his whole existence. It falls lightly onto a mandala painted with the images of various Buddhas. This is a very rare opportunity for him to meet the Buddha. His particular Buddha is beneath the tossed flower.
At the age of 32, Kukai participated in such a ritual at Shoryuji Temple in Chang-an, the capital of China. He experienced it twice during his stay in China. It is said that his tossed flower dropped perfectly onto the Cosmic Buddha in each ceremony. This is called an 'esoteric initiation' (Kanjo). Kukai mastered the teachings of the Diamond Realm (Kongo-kai) and the Womb Realm (Taizo- kai) with the help of Master Huiguo (Keika-osho). After returning to Japan, in 812 at Kyoto's Takaosanji Temple he solemnly conducted these ritual for the Diamond Realm and the Womb Realm on November and December respectively.
In a variety of esoteric initiations, especially an initiation by the name of Kechien-kanjo, all those who wish to participate, regardless of priests or laymen, can establish karmic bonds with Buddhas of the Diamond Realm and/or the Womb Realm. On the spot, a symbolic sign made with the fingers (in) and an esoteric recitation of an incantatory phrase (shingon) are given to an initiate, and then he is blindfolded. Then, he is guided to a mandala and after placing a flower on the fingertips, and tosses it onto the mandala. Thus, he can establish karmic bonds with one of Buddhas. Subsequently he is sprinkled the water of Wisdom by a master, in order to gain the Light for those who are wandering about in the darkness of worldly passions. As a result, the 'eyes' of Buddha endowed with nature in our mind will gradually open at this very opportunity. The following teaching is mentioned in the Esoteric Buddhist scripture Kongocho-yuga-chu- ryaku-syutsu-nenju-kyo; an esoteric ordination must be conducted for the salvation of all people, regardless of background. Even a great offender can be released of all their sins by experiencing this ordination.
Presently in Koyasan, the esoteric initiation ritual are conducted for all people annually; May 3rd to 5th for the Womb Realm, and October 1st to 3rd for the Diamond Realm. We wish and pray that more people will participate in these ceremonies in order to experience the precious karmic bonds with a Buddha and to live a generous and joyful life, day after day.
Spring

On May 3rd from 8:30 a.m. to 2:00 p.m.
On May 4th from 8:30 a.m. to 4:00 p.m.
On May 5th from 8:30 a.m. to 3:00 p.m.

Autumn

On October 1st and 2nd from 8:30 a.m.
to 4:00 p.m.
On October 3rd from 8:30 a.m. to 3:00 p.m.
Initiation Participation fee: ¥3,000
[ (spring / autumn) Per Initiation.]
Objects to Bring: Not necessary, but if
you have, please bring a Buddhist
surplice and
rosary.