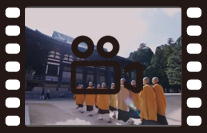 Special Movie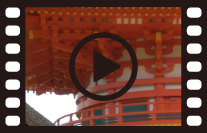 Movies about Koyasan
Muryoko-in-
無量光院
Shukubo (Temple Guesthouse) Information
Muryoko-in was founded by the fourth Imperial Prince of Emperor Shirakawa(1092-1153), in the Heian Period. It produced Chuko Indomo Daitoku (1435-1519), which was called the second return of Kobo Daishi, his disciples Kakufusu and Ino Kiyotane, and other talented monks.
During the Warring States period, Kenshin Uesugi gained the rank of Ajari, an esoteric priest, under Kiyotane.
The concourse was founded by the monk Kangen (854-925). Nobunaga Oda's guardian monk and the priest at the time, from Asama Nagamasa of Makuhashi to Kocho (the first lord of the Wakayama clan), Nagasen (Hiroshima lord) and successive lords of the Asano family have their family temples here.
Yoshio Oishi of Chushingura (Kuranosuke) and Foreign Minister Mutsu Mitsuyoshi Mutsu stayed there after the Meiji era, Uesugi, Asano, Oda, Arisugawa Former Miyake and other houses still continue to do so today.
Facility information

Shukubo
name
Muryoko-in-
Address
611 Koyasan, Koya-cho, Ito-gun, Wakayama JAPAN
TEL/FAX
TEL : +81(0)736-56-2104
FAX : +81(0)736-56-4555
URL
http://muryokoin.net/
Experiences
・Sutra Copying(¥1,000)
・Ajikan Meditation(¥1,000)
 ※Reservation required
・Fire Ceremony (Morning)

Morning buddhist ceremonies
(Summer)6:00~
(Winter)6:00~(FREE)
Room type and price

A

Fusuma room(19guest rooms)※1
2 people or more ¥12,000~

B

Normal room(8guests room)
2 people or more ¥12,000~
※The price is for one person, one night including dinner and breakfast.

※1 Fusuma
Fusuma is a wood-framed sliding door and partition covered with thick paper.
It is movable in grooves and separates the rooms.
※The price will be higher in the case one person use one room.
※Price fluctuates according to the season.

Bus guidance
Take a bus from NO.2 bus stop bound for Okunoin-mae, and the nearest bus stop is Keisatsu-mae.
Annotation
Check-in / 15:00~19:00
Check-out / 10:00
Capacity / 100 individual guests
Curfew / 22:00
Facilities / Main temple hall/Japanese garden/Parking Public bath(Men and women are separated)/ Western Style toilet/Wi-Fi